Wasp Nest Removal specialists on the Wirral
Fast response, specialist wasp nest treatments & removal for domestic and commercial customers based on the Wirral and surrounding areas...
We specialise in all methods of effective Wasp control in all types of properties, even if you cant find the wasp nest we will!
We can get you a specialist technician quickly who will recommend the best solution to treat the wasps, we also ensure the wasps are not bees. We understand the anxiety and problems that wasps present and therefore offer a treatment to eliminate these issues.
Risks
Wasps present the following risks, however wasps are also controlled with insecticide that is for professional use and is dangerous if not done by competent operatives.
Wasps can..
Can be fatal if the nest is aggravated
Cause a fire risk -we have been to jobs where they have caught fire within down lighters in the ceiling.
Multiply quickly, slowly becoming an issue later in the season.
Enter vulnerable areas in the property later in the season for light and warmth.
Live until Jan or February if the nest is large.
If left create queens that will hibernate in the roof until the following season.
Increase in the number of nests the next year if not treated.
How long will it take for the nest to die when treated
The nest takes anywhere from one hour to three days for the elimination treatment to take full effect, this is because the foraging wasps that were not home during the treatment. These foragers have to come back in to the nest and crawl over the treatment.
Why have we mentioned honeybees in the above text?
During a heavy wasp season wasps will rob honey from honeybee colonies, this wasp behaviour makes the honeybee colony look like a wasp nest. Which is obviously bad news for our declining honeybees as they then get treated. Its not easy to tell unless the operative is fully aware of this risk. We carry out specialist bee removal and proofing so we know our bees!
Discounted while on site!
To add even more value we even discount additional nests when on site. Additional nests can be identified by different locations the wasps are entering the building through.
Removal Of The Dead Nest
We offer complete nest control, and a follow up visit to remove dead nests if purchased. Dont worry if you cant find the wasp or hornet nest, that's our job. We guarantee all of our treatments for the year!
If you are based on the Wirral and you are looking for professional and exprienced wasp nest removal services please don't hesitate to get in touch with us today and we will be happy to discuss your requirements!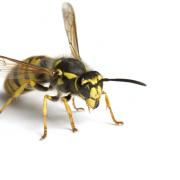 Little Neston, Wirral, Cheshire
Tel: 0151 321 9796 Mobile: 07763756696
Email: [email protected]